"Flying my Cozy is as close to flying an F-16
as you can get."
Brian Bishop '98-'99 Thunderbird Commander/Leader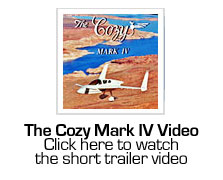 Place your order today!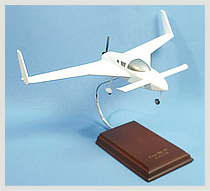 COZY MKIV SCALED MODEL
Aircraft Spruce & Specialty Co. is the owner of the design rights to the popular Cozy MKIV, one of the most popular experimental aircraft available today. Designed by Nat Puffer in 1982, the Cozy MKIV can be built using plans and materials keits available from Aircaft Spruce. The high quality model of the Cozy MKIV great in any office or home.


Aircraft Spruce PN 13-11321
Cozy Announcement
Aircraft Spruce & Specialty Co. has acquired all existing inventory, tooling, and drawings for the prefabricated metal parts used in construction of the popular Cozy Mark IV aircraft. Ken Brock Manufacturing Co. of Stanton, CA produced the metal parts for the construction of the Cozy and Long-EZ aircraft since the mid-1970's until ceasing business operations on December 31, 2005. As the owner of the design rights for the Cozy Mark IV and the source for plans and kits, Aircraft Spruce continues to sell Brock's parts. There was no remaining inventory of some of the parts, but there are new alternate sources on most of them.
Aircraft Spruce Adds Cozy Builder Support Team
Aircraft Spruce & Specialty Co. has owned the design rights to Nat Puffer's Cozy's Mark IV homebuilt aircraft since 2004, and sells plans and kits to builders worldwide. Technical builder support has been generously provided by Cozy builders groups since 2004.

Aircraft Spruce has recently contracted with Marc Zeitlin, an experienced builder, to provide technical builder support to Cozy builders who can contact Marc by email at marc_zeitlin@alum.mit.edu or by phone (978) 502-5251. In addition, Aircraft Spruce has contracted with Burrall Sanders of Free Flight Composites to have a Cozy aircraft on display and to answer builder questions at AirVenture, Sun N Fun, and other selected fly-ins. Burrall can be contacted by email at craftsman@freeflightcomposites.com or by phone at (719) 660-8650.

Cozy plans and kits are available from Aircraft Spruce.
email: info@aircraftspruce.com
phone: 877-4SPRUCE
Cozy Builder Forum
Share ideas and experiences with other Cozy Builders in the Cozy Builders Forum located in the Aircraft Spruce & Specialty Forums!
Join the Canard Aviation Forum courtesy Mike Skorija and John Slade
April 2003 interview by kind permission of Kitplanes Magazine 2mb-requires Multimedia Player- Free or similar MP3 player

Individual Builder Assistance for Cozy Mark IV from Freeflight Composites
Build your own Cozy web site free courtesy Rick Maddy / Join the Canard Zone Forums courtesy Jon Matcho
Cozy Custom Metal Parts
Cozy Builders Support-Cozy Builders Mailing List courtesy of Marc J. Zeitlin

March 2002 article Reprinted by kind permission of Custom Planes Magazine 1.8MB-requires Adobe Acrobat-Free


The Cozy Design is an Aircraft Spruce Copyright

Aircraft Spruce purchased the Cozy designs (Cozy III and Cozy Mark IV) from Co-Z Development, and as of January 1, 2004 has the exclusive right to market these designs. These designs are protected with U.S. copyrights, and Aircraft Spruce has licensed no one else to copy all or any part of these designs to sell, loan, or give to others.